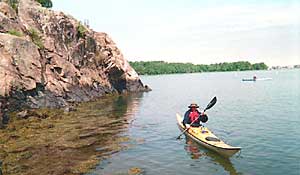 Hingham Harbor and nearby destinations
Points of Interest: Hingham Harbor Islands, Grape, Bumpkin & Slate Islands, Worlds End, Nantasket Beach Boardwalk, the Weir River.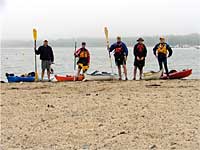 Hingham Harbor is a great place to put in for paddling to a variety of destinations. The launch site is located at Hingham Harbor Beach/Park on Rt. 3A in Hingham, MA which is just up the road from the Hingham Rotary. Launch at the beach area between the boat ramp and the marked swimming area.
The best time to put in and take out at this location is within an hour or so of high tide. At low tide the bottom gets very mucky and you'll be ankle deep in mud with a dirty boat (and car) to clean if you don't plan it right. It's far better to leave in the mud than to return to it.
The Hingham Harbor Islands
Easily visible from shore and a very short paddle away you'll find Button, Ragged, Sarah and Langlee Islands all in close proximity of each other. These islands are part of the Boston Harbor Islands National Park and are very small but can be a nice stop for a picnic when the tide is right.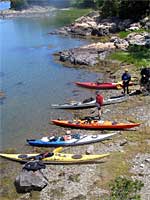 While paddling through them you will be treated to a symphony of sounds from the local rookeries of seagulls, cormorants and other birds that inhabit the area.
Bumpkin, Grape and Slate Islands
If you stay to the left of the Hingham Harbor Islands you will paddle past the Hingham Yacht Club while weaving through the many boats moored there. Passing Crow Point on your left marks the end of Hingham Harbor and you should see Bumpkin Island straight ahead with Slate and Grape Islands to your left. It's important to be cautious while crossing any channels in this area, especially during months with high boat traffic. Remember to cross as a group and as quickly as possible.
Bumpkin Island
Bumpkin Island, once owned by the military, is a great paddling destination and around a thirty minute paddle from Crow Point if the winds and seas are being kind. The crossing to Bumpkin is less protected than in the harbor and you could experience some strong winds, chop and swells. It is important to be sure you are at a skill level suitable for this type of crossing.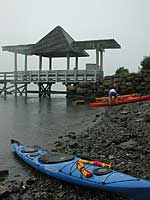 You will find the public ferry dock on Bumpkin's south side with a small rocky area on either side to land if the tide is not too high. You may also have better luck finding a place to land further to your left towards the eastern side of the island.
Bumpkin is a great place to stop for lunch or to explore the remains of an old hospital and farm house. You will find some old paved roads and in summer mowed paths that make traversing the island easy. There are also a couple of outhouses that may come in handy but it's always a good idea to bring your own supplies (if you know what I mean).
Camping is allowed on Bumpkin in season but you need to make reservations in advance. There are a few nice secluded sites by the water on the southern side of the island and a few more in the interior and most sites will fit two small tents comfortably. Two things you should know when camping on one of the Boston Harbor Islands, alcohol is not allowed and fires can only be made below the waterline.
Slate and Grape Islands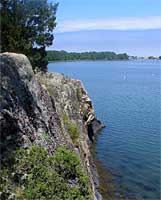 For a slightly shorter paddle you can make your way west from Crow Point to visit Slate and Grape Islands. Slate looks nice from the water but there's not much there but slate (hence the name) and from what I've read an abundance of poison ivy. Grape on the other hand is another great place for lunch, a swim or a bit of exploring. Unlike Bumpkin, Grape was never owned by the military and the lack of government intervention is quite noticeable with its thick mowed paths through dense greenery with lots of sumac buds to give it some contrast. Take the path to one of the overlooks for a beautiful view of the harbor. The dock area on Grape's south side has a beautiful grassy field with a trellis covered sitting area that is covered with grape vines in season. There is a rocky beach near the dock to land and a few other safe landing spots along the islands perimeter. Camping is also allowed on Grape and the sites looked nice, but there didn't seem to be any campsites near the shoreline. Not far from the dock is a picnic area complete with picnic tables and a huge oak tree for a canopy. Of all the islands in this area, Grape is definitely the more picturesque and well worth the visit.
Worlds End
Back at Hingham Harbor and staying to the right side of the Hingham Harbor Islands you can paddle to Worlds End, the Weir River or paddle over to the boardwalk at Nantasket Beach. Again, the best time to paddle this area is in late spring and early summer when boat traffic is minimal, but it makes for a great day paddle just about anytime.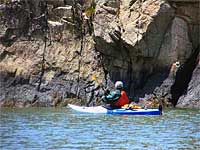 You should plan to make your crossing soon after passing Langlee, then paddle up the west side of Worlds End. Beware of boat traffic while making your crossing, especially during July and August when the traffic is at its highest. Wind, chop and swells can develop in this area making it more difficult for the inexperienced paddle. Make sure you are prepared for paddling in these types of conditions.
Worlds End consists of two tall drumlins that are connected by an isthmus that can be used as a portage spot if the need arises. When you reach the northernmost tip of Worlds End you have a couple of options, you can paddle East towards Nantasket Beach and the boardwalk, you can round the tip of Worlds End and head south into the Weir River or you can paddle northwest to Bumpkin Island. If your choice is the boardwalk, during the summer you'll find a place to get a hot dog and a drink, ride the carousel or play a few arcade games. Nantasket Beach is a short walk across the causeway.
The Weir River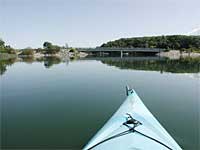 Back at Worlds End you can round the tip and head south into the Weir River. In summer the head of the Weir River is crammed with moored power boaters complete with sunbathers, children swimming, radios blasting and plenty of alcohol consumption going on, just one more reason why earlier in the season might offer a bit more tranquility. A short paddle into the Weir past the isthmus and you'll find a rocky cove to your right which is a good place to stop for a snack while watching the teenagers jump into the ocean from the cliff above.
A bit further down the Weir you'll come to the Narrows. Be watchful here as the current can pick up at certain times during the incoming and outgoing tides but is barely noticeable within a half an hour each side of high tide. Not too far past the narrows you will approach a decision point in the river, going to the left will take you a short paddle east towards Nantasket and a dead end. Staying to the right will give you a longer paddle towards Straits Pond in North Cohasset. If you stay right you should soon see the Washington Blvd. Bridge, please beware of people fishing from the bridge when paddling under it.
Ultimately, you will come to where Rt 228 crosses. This will require a difficult portage if you wish to continue to Straights Pond. Be very careful as you approach the 228 crossing, as the current going into the culvert can be very dangerous at times.
[Read this Boston Globe article about some kayakers that had to be rescued - 9/3/07]
The Return Trip
Depending on the amount of paddling you've done so far, you may want to save some time (and energy) on your return trip up the Weir by portaging across the isthmus at Worlds End. It's a short portage that could save you a good twenty minutes by avoiding the paddle around the tip of Worlds End. It's also a good place to stop and refuel before making the last leg back to the beach at Hingham Harbor.
Final Thoughts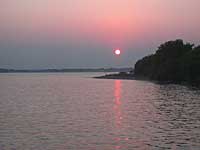 Hingham Harbor is a great place to paddle for a couple of hours, the whole day or even a couple of days if you decide to camp on Bumpkin or Grape. Whatever you decide to do, you won't be disappointed.
Camping on Bumpkin or Grape Islands
If you are camping on one of these islands you can park overnight in the Hingham Harbor Park lot but you need to call the Hingham Police ahead of time (781-749-1212), let them know what you're doing and be prepared to give them your license plate number. For more info on Boston Harbor Island camping and reservations, click here.
Directions
Take 228 to 3A. Take a Left onto 3A and follow until you see Hingham Harbor Beach/Park on your right. Turn into the first Parking area (near the boat ramp)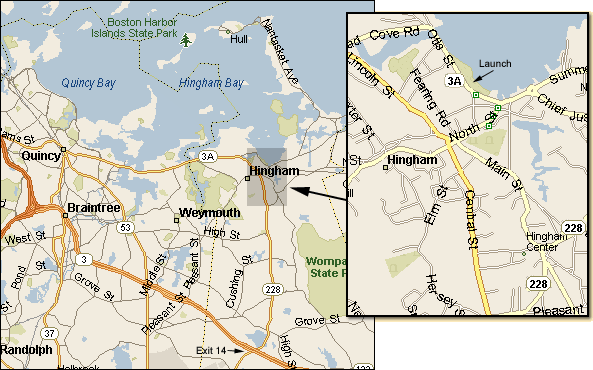 Post Paddle Refreshments
A great place to go for a post paddle refreshment (or nourishment) is Stars Restaurant which is just a short walk from the parking lot at Hingham Harbor Park. Their food is excellent and they have and extensive beer selection from local microbrews to beers from all over the world. If you decide to check Stars out you might want to make sure you lock your kayak to your car if you leave it at HHP parking lot... it should be safe as is but you might not want to take any chances.