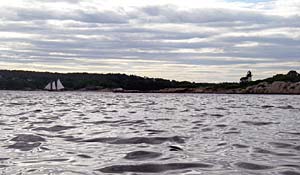 Gloucester Harbor, Kettle Island & Brace Cove
June 23, 2007
By Nelson Pidgeon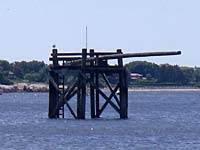 The plan, as posted, was to meet at the Greasy Pole in Gloucester at 10:30 for an 11:00 paddle to Kettle Island and the surrounding area for some lounging, fishing and possibly a little snorkeling. Until now I thought the Greasy Pole was some sort of low end Polish restaurant but have come to learn that it is actually a man-made structure that stands a couple hundred feet off the beach in Gloucester Harbor and is used for a "capture the flag" competition during the St. Peter's Italian-American Fisherman's Fiesta each year. It was an interesting structure to find in the ocean to say the least.
Johnysmoke and I were the only the South Shore participants who signed on for this paddle. I picked him up at the Derby Shops in Hingham and we made our way with little resistance through Boston and arrived in Gloucester on time to meet up with David, Leslie, Chris, Bob, Dee and Adam. We had passed Leslie on the highway and wondered if she was headed to the same place we were. It turns out she was.
he day was clear and the sky was an exhilarating shade of blue with just enough clouds thrown in to add a little contrast. Temps we predicted to be around 70 with 15 mph winds and 25 mph gusts and for most of the day it was all of that. The harbor wasn't particularly crowded for a Saturday but there still seemed to be a fair amount of activity going with fisherman, scuba divers and plenty of sailing vessels healed over and enjoying the brisk ride.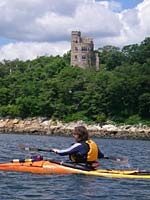 We readied our boats and were soon on the water and heading southwest to follow the coast around Magnolia Point to Kettle Island. A half mile off the beach was Ten Pound Island sporting it's small but quaint Ten Pound Light. Adam didn't take too long to start aggravating the fish as the rest of us pressed on towards our destination. I hadn't been on the water twenty minutes and was already amazed by the differences between the North and South coasts. Maybe it's because I've done my share of paddling the South Shore and this was a welcome change, but here the coast seemed so much more intriguing. We have some pretty nice mansions along the shores of Cohasset, Hingham and around Buzzards Bay but the North Shore doesn't just have mansions it has castles and cliff side homes that look like Italian villas complete with stone walls down to the waters edge. It was truly refreshing.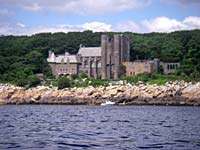 So we paddled on past the lighthouses, mansions, castles, scuba divers and weekend fishermen around Magnolia Point. John and Bob hugged the shore in their poly boats looking for any nook or cranny that tickled their fancy and enjoyed the added turbulence from the refracting waves. As we passed Musset Point we were treated with the sight of yet another castle. Hammond Castle compares more in size to its European cousins and overlooks Norman's Woe Cove and all of Gloucester Harbor. I've been to Hammond Castle on a few occasions and have been looking forward to seeing it from this perspective ever since I began paddling. John Hays Hammond, inventor and forward thinker was credited with over 800 inventions and 437 patents, finished building his castle in 1926. The castle is filled with medieval and renaissance artifacts and furniture and is a great way to spend a Sunday afternoon or to visit during one of their renaissance festivals.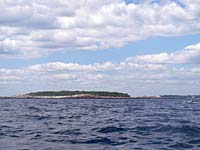 Once we rounded Magnolia point we could see Kettle Island in the distance. We were the advanced team that needed to secure the island and make ready the Bolonsky Bivouac. Dee said she believed the cove we were looking for was located towards the south side of the island but wanted to drift with the tide to let Chris and Leslie catch up. Drifting is hard for me, I'd much rather paddle. But drift we did, right past our landing spot. I couldn't remember passing anything particularly obvious but then again I didn't really know what I was looking for. John and I decided to continue paddling around the island and soon came to a nice gravel beach to land on but based on Adam's description of "our spot" it seemed much too easy a landing. I radioed David to let him know what we found and he confirmed my suspicions. I told him we'd continue clockwise around the island and meet up with them. When we reached our small rocky cove every one had already hauled their boats up on the rocks and was in the beginning stages of lunch preparation. Chris came down and steadied my boat while I got out. The area was extremely slippery and the blood running down Chris' elbow proved it.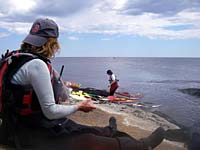 Our lunch rock was plenty big for all of us to relax and get to the task of consuming what we brought and sharing what we could while waiting in great anticipation for the arrival of the Kettle Island Sun God. Arriving in predictable fashion, Adam pulled into the cove and took no time in commencing his hedonistic ritual. When asked "What's with all the lounging around?" He answered, "It's good for the sciatica, social skills and my tan." Lunch concluded and the kayaker's post lunch banter ensued. The air and water were not exactly complimentary to the idea of snorkeling so we opted to wait for better day.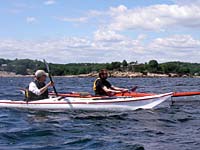 Eventually, restlessness set in and David suggested a little more exploration. Chris and I took him up on his offer and we headed east towards Misery Island which was about 3 miles away. The wind was up and the sea was disgruntled, throwing salt spray in our faces every chance it got. We paddled three quarters of a mile to Egg Rock then headed northwest directly into the wind towards the shoreline. Closer to shore the wind had subsided some and we checked in with each other to determine if we wanted to continue on to Misery or head back to Kettle. After some indecision we decided to head back. Paddling clockwise around Kettle again Chris and Dave found a small rocky causeway to explore on the southeast side of the island. As we entered our cove we could see the tide had come in considerably and the relaxation level had been cranked up a notch as Bob was now traipsing around in his speedo and I'm not sure what Adam was wearing. Needless to say it was not a pretty sight and it didn't look like anyone was going anywhere soon. Landing was a little easier this time but Chris and David chose to stay in their boats and play in the cove. Once John heard of our textured water experience he became ancy and now decided he wants to check it out. Hearing this, Adam realized that these guys from the South Shore needed a little more than looking for fish and hauling out on the rocks all day like a colony of seals. Somewhat reluctantly he suggested an idea that would tack on an additional two hours of paddling. John, Bob, Dee and I opted in while David, Chris and Leslie decided to head back to the put in.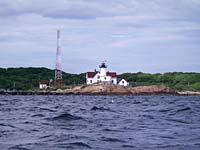 The next leg of our adventure involved a 3 mile paddle downwind across Gloucester Harbor to Eastern Point then around to Brace Cove, a short portage to Niles pond then another portage back to the Harbor. John, having been under the tutelage of Doug Lowry was reluctant to p-p-portage but we convinced him to come along anyway. John was catching all the right waves and was close to a half a mile ahead of everyone else despite Dee's failed attempts to rein him in. The crossing was a quick one and I was relieved that my Sirius had behaved itself. After crossing the channel, Adam, John and I waited while Dee and Bob caught up. Adam explained where Brace Cove was and said they'd catch up if we wanted to go ahead. Once around Eastern Point we could see Thatcher Island with its distinct twin lights in the distance and the large round rock before us marked the entrance to Brace Cove. We turned in and paddled to shore to wait for the others who were just five minutes behind us.
The first portage was short but sucked anyway. Bob paddled his boat across Niles pond straddling his boat like a horse but made it without being thrown. The second portage was a hundred yard walk down a residential street to the harbor and sucked even more. From here it was just a mile and a half paddle back to the put in.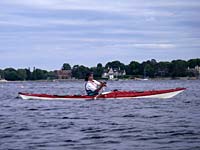 More clouds had covered the sky and it looked more like five o'clock in October than June. We crossed over to Ten Pound Island and Adam tried his luck with the fish again. I asked him if he had any luck fishing today and he said with a grin, "Nope, I Stevensed." Knowing the fishing rivalry he has with Mark Stevens his answer was clear to me.
Our day was nearing its end; the sun filtering through the clouds illuminated Ten Pound Light as a three masted schooner in full sail sailed by. I pointed my bow towards the beach and watched as a row boat powered by ten men and directed by the eleventh crossed in front of me. It all felt sort of unreal, like I was in a movie or something. Maybe it's just the lure of this old fishing town beckoning me to return. I think its working.
It was an awesome day with some great folks. Thanks Adam for organizing it and for allowing yourself to stray away from your hedonistic tendencies for the benefit of us newcomers.
Trip Distance 13.5 NM