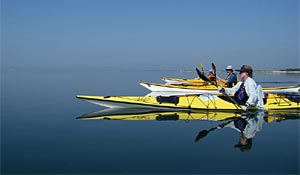 Monomoy
September 1, 2010
By Briggsy
Photos by Norm Caseley
Paddlers: Norm, Bea, Barb and Briggsy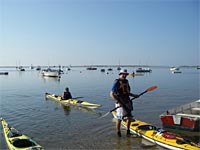 I originally posted this trip as "Monomoy Thursday 29th July" (now in "Past Trips") but the weather got in the way and I had to cancel. This was my third trip to Monomoy this year and was exclusively open only to members of the yellow kayak club which at present consist of Norm, Bea, Barb and yours truly. Bea actually had to buy a new kayak in order to become a member which is most admirable.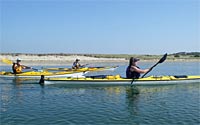 I thought I would be first at the launch site at Battlefield Rd by arriving 35 mins before the launch time, but no. The rest of the club had arrived before me and were nearly ready on the beach. Norm, Bea and I had paddled Monomoy earlier this year and they beat me to the launch last time too!
We launched at 9am into a mirror calm Stage Harbor, it was HOT already, the forecast being in the 90's for the day. High tide was 5.52am so we got a nice push out of Stage Harbor and turned East towards what I believe they call the "South way".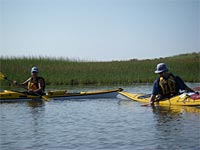 I had never been round Morris Island to the Causeway so we went there first to check out an alternate put-in location. The heat finally got to Barb and she went in for a cooling dip in the harbor.
From there we headed south keeping the barrier beach close to our left. Other than a few noisy powerboats conditions were perfect, barely a ripple on the water. Our aim was the southern most point of the "South way" where it used to be possible to pass through a channel that led to the Atlantic. Sand now blocks the route but 2 guys in a small powerboat obviously thought it still existed. They stopped to ask if we knew where the channel was. I told them it was blocked and they said they went through it last week but couldn't find it today. Hmmmm. Unconvinced they buzzed off again in search of the elusive channel. Maybe after Hurricane Earl this weekend it will open again!!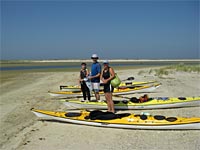 About 11.30 we finally arrived at the blocked channel. Low tide was 11.45 so we hauled our boats way up onto the beach. We walked about 5 minutes to the Atlantic side over the "Land bridge" that now connects Monomoy Island to the mainland. You could see where the channel once went through. We were greeted by seals a few yards offshore who were enjoying the light surf, it looked so inviting in the heat that we all jumped in. Now how far away from seals were we supposed to be keeping bearing in mind the recent Great White sightings???....ah yes I think it was 30 yds, so we were OK.
Hunger got the better of us so we returned to the boats for lunch and got back on the water about 1pm. Our aim was to find the southerly channel leading to Nantucket Sound. We followed the northerly channel for a while then paddled south between a small island off Monomoy and South Monomoy itself. The channel meandered between the two islands and had steep sides, one side of the kayak in 2' of water, the other in 6'. We kept losing it then finding it again. By now it was 2 hrs after low tide so there was really plenty of water everywhere ( for a kayak anyway).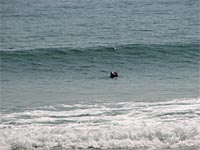 Finally the channel turned west and we followed it through a gap between sandbars out to open water then headed north back towards Stage Harbor. Shortly after leaving the gap I felt a bump on my boat, looking around I suddenly realised the dark colored water wasn't seagrass but hundreds of Striped Bass. The fish were jumping occaisionally but there really were literally hundreds of them. Adam Bolonsky where were you this trip??? They stayed with us for 15-20 mins before leaving, it was quite a sight. Nearby were powerboaters fishing but probably unaware of the potential just a few hundred yards away.
There were a few tiny swells on the way back in but nothing really to surf on. The wind had picked up a little, just enough to cool us down as we rode the current back into Stage Harbor and our launch point at around 4pm. A great day paddling in perfect conditions.
To finish the day we enjoyed a frosty beverage and some food at Brax Landing, Harwich, overlooking the Harbor. Thanks Norm, Bea and Barb for taking the time mid week to go paddling.It was a great trip.