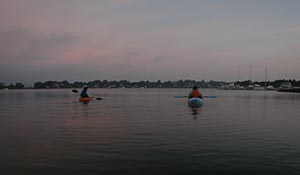 Back River
| | |
| --- | --- |
| Location: | Weymouth, MA |
| Type: | Tidal River fed by Whitmans Pond in Weymouth and emptying into Hingham Harbor. |
| | Satellite image |
The Back River is a 2-3 hour paddle up and back depending on how many estuaries you decide to explore. You can paddle up to Jackson Square where you run into the first of many herring ladders. The herring are abundant in the spring as Whitmans Pond is a prime spawning area.
The River is flanked by Bare Cove Park on the Hingham side and Great Esker Park on the Weymouth side. Both parks offer nice walking paths along the river. There are many old buildings along the way as this area was once owned by the Navy and used as an ammunition depot during WW2. Lots of wildlife can be seen during your paddle, especially birds.
I would make sure you go as close to high tide as possible as it seems the upper portion may be tough to navigate at lower tides.
Launch Spots:
Abigail Adams State Park, Weymouth
Directions: Follow 3A to the bridge at the Weymouth/Hinham line. The park is on the ocean side of 3A. Park your vehicle in the lot on the right side near the Yacht Club. There is a small rocky beach area where you can launch from.
Puritan Road, Weymouth
Directions: From Abigail Adams State Park head back north and take a left on Green St. Follow Green St to East St. Take a left. Follow East St to Puritan Road. Launch at the end of Puritan Road. Minimal parking at Puritan Road. Also would not try to launch at low tide.
For more information on paddling the Back River, read the trip report.