---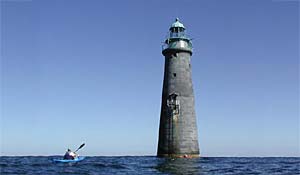 Cohasset Harbor and vicinity
| | |
| --- | --- |
| Location: | Cohasset, MA |
| Type: | Ocean, harbors, and tidal streams |
The Cohasset coastline is one of the more beautiful sections of real estate on the South Shore. Obscenely expensive homes occupy virtually all of the rocky shore in this tiny town. And in a relatively small area, there can be found kayaking for flatwater, whitewater and ocean kayakers alike.
Cohasset harbor itself is a safe area for flatwater kayakers. Keep clear of the main channel and keep an eye out for power boaters. You can go around the perimeter and see some of the boats, properties and restaurants that line the harbor.
The Gulf River is a tidal estuary that feeds from the harbor. This can be a very dangerous area, because with the exception of short periods of time during the tide schedule, the current is very fast and is flowing over boulders. This area is quite popular with the whitewater set - you can often find them paddling in place among these rapids.
Soon after high tide, or approx 2¾ hours past low tide, the waters in the river and the harbor equalize, and you can pass safely. You can paddle up the Gulf River into North Scituate where there is a small launch area with modest parking at Gannett Road.
For Skill Level Three sea kayakers, there are two primary destinations worth visiting.
If you paddle out of the harbor, Strawberry Point is almost straight out to sea (but connected to the southern mainland), approximately one mile out. About 1¼ miles beyond is Minot Light - an absolute must destination. This area is very rocky, so keep an eye on what the waves are doing to spot tiny rock islands.
A short stretch north from the harbor mouth is Little Harbor. Water enters the harbor under Atlantic Avenue through a narrow channel that can be extremely hazardous during high seas and through most of the tidal schedule. At approximately high tide, the inward flow is quite swift, but smooth and manageable. This is a good time to enter.
Little Harbor is absolutely beautiful. There are several small rock island within the harbor, and you will likely see American Egrets and Cormorants in clusters of forty or more. On the far side of the harbor is a cemetary with a small rocky beach which makes for a good place to land and stretch your legs. And now you can impress your friends by telling them that you paddled to The Graves.
One hour past high tide, the water under Atlantic Avenue comes to a dead stop and slowly reverses. Half an hour later, the flow is swift again, and I wouldn't recommend waiting longer than this to exit.
Launch Spots:
Sadly, there is no easy way to get to this location unless you already live in Cohasset.

Take Rt 3 to exit #14. Take Rt 228 toward Hingham for approx 7 miles. To stay on 228, you will have to take a couple of right turns, so keep your eyes open. After you cross over Rt 3A, you will still be on Rt 228, aka East Street at this point. Soon after, Rt 228 will go left, but stay on East Street. After approx 3 miles (you will be on South Main Street at this point), fork left onto Elm Street. This will quickly bring you into the Cohasset Harbor district. Take a right onto Border Street, at Kimball's Restaurant. Cohasset Harbor will now be on your left.
There is free public parking on the harbor side of the street. For most of this area, the harbor water butts up against a vertical stone wall, but not too far from Kimballs Restaurant, there is a tiny area where the land rises to within a few feet of street height. You can park here and lift your boats and equipment over the fence. I don't know if this is a sanctioned launch method, but it's convenient and I've done it several times.
The more well-known and popular launch point is further down Border Street. You will cross over the Gulf River, and take and take your first left. You should see the harbormaster shack in front of you. On the right is a driveway that will take you to Bancroft Hall, a function hall. If you drive around past the hall, you will find additional parking out back. Remember where this is. Now drive back out to Border Street and take a left.
Update (June 2010): Word is that they are ticketing vehicles that park in that function hall now. So this may no longer be an option.
Take your first left onto Parker Street. At the end of Parker Street, there is a quasi-public launch. You can launch here, but you can't leave cars here without a local sticker. Unload your gear and drive back to that function hall parking lot, leave your car(s) and walk back to the launch. Note: You should call Bancroft Hall ahead of time (781-383-1433) and verify that there are no large functions going on at that time.
For more information on paddling Cohasset Harbor, read the trip report.